Canadian International School Tokyo School Profile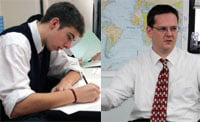 Canadian International School, located in Tokyo is an accredited Canadian school, which embraces the curriculum and philosophy of a Canadian education. Modern teaching strategies, provision of student enrichment units, recognition of various student learning styles, and a culture of academic support create a special learning community at Canadian International School Tokyo.
Accreditation
PEI - CIS Tokyo is accredited by the Province of Prince Edward Island (PEI). The Kindergarten to Grade 12 curriculum is presently used by the provincial ministries of public education in each of the 4 Atlantic Provinces and is fully accredited across Canada. Annual onsite inspections by the Department of Education in PEI are held. Please feel free to contact the International Education Coordinator, Mike Leslie, at the PEI Department of Education for further information regarding CIS' status as an overseas school.
WASC- CIS Tokyo is accredited by the Western Association of Schools and Colleges (WASC) from Kindergarten to Grade 12.
IB PYP - CIS Tokyo is accredited by International Baccalaureate Primay Year Program (PYP) from Kindergarten to Grade 5
All CIS teachers must be certified by the Canadian province of Prince Edward Island (PEI). This certification requires each teacher to provide a statement of professional standing, a certified university transcript and a current Criminal Record Check. This standard of certification indicates that all CIS teachers have achieved educational standards required for employment in a public or private school in Canada.
Instructional time
The school day is from 8:30 am to 3:20 pm. Students in grades 1 to 12 must be in their period 1 class by 8:30 and leave at 3:00 (KG) or 3:15 pm (Grades 1to 5). Grade 6 to 12 students are dismissed at 3:20 pm. The school schedule consists of 5 days with 6 (K3-5) or 7 (Grade 5-12) periods per day. There are 190 instructional days in the school year.
Annual Schedule
The CIS school year consists of the following components.
1. Regular School Year

CIS delivers the PEI curriculum for K-12 from September to June of each school year. All Student applicants for grades 2-12 write entrance tests for admission to the regular program. K3, K4, K5 and grade 1 students have an oral interview.


The high school credit program follows the same guidelines as are in place in Prince Edward Island. The outline of the high school program (table 1) provides opportunity for achievement of the required entrance courses for most Canadian universities as specified in entrance requirements.
| | |
| --- | --- |
| 2. Summer School | During July and part of August of each year there is a summer school for incoming students who wish / need to improve their English skills. This is essentially an English Second Language (ESL) summer school. Occasionally some elementary regular CIS students who need further intensive English may also attend this session. |